Product Range
Automatic Hardness Test System/Full-auto test system
◆Automatic Hardness Test System AMT/AVT series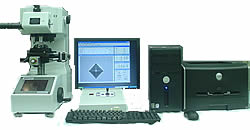 Matsuzawa does a help of labor saving of a customer.
We provide constructing a auto hardness test system meeting user needs.
The left image is AMT series.
Rading Performance Evolution
We realize stable reading without being affected by a wound and etching or a change of brightness by new image processing algorithm.
The highly precise luminosity detection
Reading that followed a change of brightness by detecting precisely reflectance of the test prece surface.
◆Advancement of work efficiency
The personal error of the measurement value is dissolved with opening a worker from fatigue of the eye by the auto-focus function and the automatic reading function.
There is not need for education of measurement plasticity security, too at all.
Reading reappearance / ±0.5% (in case of test load:9807mN、hardness:700HV、objective lens:×40)
Large reduction of a measurement cost / Reading speed : 0.5sec/1 indentation, Auto focus speed : 3sec/1 indentation(different by a specimen surface condition)
you can see a state of auto-focus of AMT/AVT series.



Flexible Measurement Function
Flexible measurement function can perform the measurement correspending to various conditions.
◆Indentation making pattern
As well as a pattern function of an abundant variety; the measurement pattern that was able to put together to incline of a sample end face by coordinate rotation mechanism; by making and a trace function; imitate you, and can make a pattern.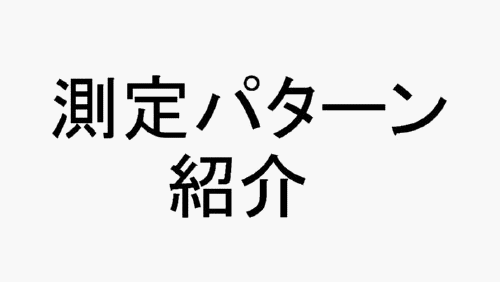 ---
◆Auto-Measuring device system PMT/PVT series
Grade up using hardness testers with our Auto-measuring device at most economical cost! The readout performance improves greatly by XGA CCD and digital image processing.

Please ask as for more information.
---
◆Full-auto test system
you can see a state of full-auto test system
 
1970 We produced the first full-auto Jominy hardness test system in the world (Rockwell hardness test).
1976 We produced the automatic Vickers hardness test system. I realized automation as well as Rockwell test in a field of a Vickers test.
We will provide the exclusive fully automatic system which we was able to meeting the various user needs that it is possible for to be Matsuzawa who led the industry by automation of a hardness test from Matsuzawa's antecedents.
Please ask about a trouble of measurement cost time of a hardness test willingly to our company.
we introduce a fully automatic system and the special device which Matsuzawa developed in the past.
Please understand, The details and quantity of specifications described in this table or in brochures maybe changed without notice following changes due to improvements.
Windows is a registed trademark by Microsoft USA in USA and other countries.